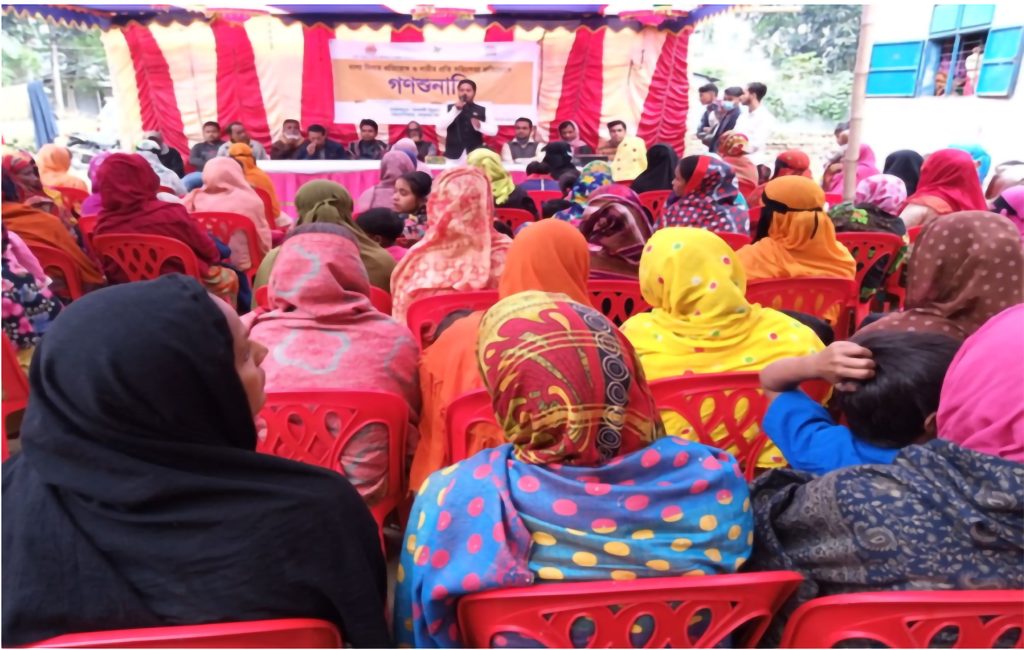 The project, "Security and Rights of Women and Girl" is funded by UKAID and
nationally technical support is provided by MJF. SabalambyUnnayanSamity (SUS)
is a local implementing partner of the project which mainly works in Mymensingh
division. The rights based project is trying to increase the capability of
right holders through awareness and capacity building training. Simultaneously,
it is giving effort to make an effective linkage among right holders and duty
bearers. The project also works to sensitize duty bearers to respect response
and protect the rights of right holders. Main focused actor group of the
project are 4800 rural women and 1200 adolescent girls. To support them at
family and community level, the project has incorporated 2400 male and 1200
adolescent boys. This right based project is
following right based approach and it will put a high concentration on better
coordination which will foster cohesive planning, initiation of related
activities based on prioritized needs, joint advocacy and community based
monitoring, effective sharing of good practices and learning.
Right now, every individual and
community is under an unusual global pandemic threat. The spreading out of
COVID-19 has literally pushed the general global social and economic life
towards a predicament. The project activities are not any exception in that
regards. Group based regular activities have been done with safety
preconditions.  In this reporting period,
SRWG project has distributed Emergency Cash Support to 425 vulnerable women
group members and also worked closely on domestic violence prevention. A
significant increasing trend of violence against women and girls and
initiatives of arranging child marriage has been recorded.  Also the project has a plan to distribute
emergency IGA support to 450 women to keep continue their IGA and control over
own resources.
In a patriarchic society,
strengthening the rights of women demands a mammoth effort. Simultaneous effort
on political, social, economic and legal sphere can give them level playing
space. Besides the high rate of gender based violence, the social and family
norms and thinking should be changed. Right claiming projects can help to make
aware and facilitate the whole process of claiming existing service and can
bring a change to the response of service providers. Complex and lengthy
judicial procedure often discourages victims to seek for justice. In that case,
the project like SRWG can play a vital role to address the right channel to
decrease the hassle of victims.
According to the Survey about
Violence Against Women which has been conducted in 2015 by Bangladesh Bureau of
Statistics; 72.6% of married women in Bangladesh have experienced some forms of
violence by their husbands. 76% girls have experienced some forms of violence
in their campus. Out of all, only 5% go for complain. This data shows that
women and girls are at high risk in sense of security and rights.
Multidimensional and long term effort is needed to eradicate this mammoth
social crisis from the society.